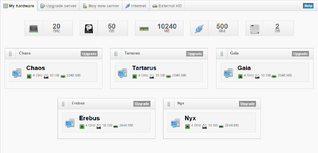 What is a "Server"?
A Server is home to your Hardware. It holds your CPU, your RAM, your Hard Drive and your Internet. You may have more than one Server. If this is the case, then all of your Hardware (Except the Internet) will be stacked upon one another into a total.
For example; I have 5 servers, each of which is maxed out. This would mean that, in total, I would have 20GHz of CPU Power, 50GB of Hard Drive space, and 10.2GB, or 10240MB of RAM. It also stacks up your External Hard Drive Space.
You may buy as many servers as you please, however, for each server that you buy, the price rises exponentially. So, unless you have a fool-proof way of getting your hands on tonnes of cash, you aren't likely to get more than 12 servers.
How do I buy a "Server"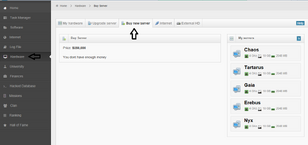 To buy a Server, you must first navigate to the "Hardware" section on the side-menu. From there, you can click on "Buy new Server", which in turn brings up a tab displaying the price of your next Server and the Bank Account from which you will transfer the money.
Ad blocker interference detected!
Wikia is a free-to-use site that makes money from advertising. We have a modified experience for viewers using ad blockers

Wikia is not accessible if you've made further modifications. Remove the custom ad blocker rule(s) and the page will load as expected.